Tradition galore: the best callos in Madrid
In Madrid, there are a series of baptisms, ways of earning the title of "friend of the city". These baptisms include visits to El Prado, drinking from the magic fountain of the San Isidro chapel on May 15th, enjoying a dish of cocido at La Bola, trying the churros and hot chocolate from Chocolatería San Ginés and, lastly, trying callos at Lhardy. Founded in 1839, this traditional restaurant is flooded with history and has hosted many local celebrities throughout the years, most of them attracted by its delicious callos.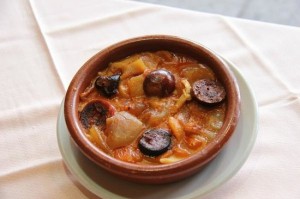 However, prestige is something you have to pay for. A dish of callos will set you back approximately 28 euros, although the restaurant's distinguished atmosphere with its Nineteenth-century decoration and Rococo touches, excellent service and historical feel make it worth it. Lhardy is centrally located on Carrera de San Jerónimo, 8.
Nevertheless, Lhardy is not the only place where you can enjoy a good plate of callos. At Las Reses (Calle Orfila, 3), they serve them with Asturian chorizo and black pudding, enjoying a high level of popularity in its conventional yet pleasant atmosphere. Since they specialise in meat, you can also enjoy their delightful steak tartare or sirloin and T-bone steak burger. Another place for traditional callos is Dantxari, on Calle Ventura Rodríguez, 8. Here, they accompany them with pig snout and feet.
More popular and traditional is Bodegas Ricla (Calle Cuchilleros, 6), located a stone's throw from Plaza Mayor and from our hotel in Puerta del Sol in Madrid, where not ordering callos is almost considered a crime. Also, they offer fantastic vermouth on tap and a large selection of tapas, with a special mention for their marinated anchovies. Following the traditional and unpretentious line with authentic flavours, La Botillería de Maxi (Cava Alta, 4) is a classic for tapas and vermouth in La Latina, a place is also famous for its callos, croquettes, chicken breasts and oxtail stew. Enjoy.
Categories: Gastronomía en Madrid
« Art Galore: Munch, Bonnard and Koudelka
Great Exhibitions, Great Sensations »