Good little things
Madrid is strongly competing to become the capital of good taste, Despite that its traditional bars that serve patatas bravas and a brick of Spanish omelette are part of its landscape, not that they are bad, there are also spaces that offer really "good little things", that the artist Paco de Lucía would say.
We start this route of treats in the city in La Malaje (Calle Relatores 20), a restaurant that specialises in Southern Spanish cuisine, with star dishes such as its famous Malaga-style herring salad and wild seabass cooked in sherry. It's an upmarket restaurant with an informal touch, offering views of a nice little glassed courtyard. Good value for money.
Those who like offal recipes with a sophisticated touch will love La Tasquería, a mixture of the words tasca and casquería (tavern and the Spanish word for offal), located on Calle Duque de Sesto, 48). Brains, tripe, hands, cheeks and other pork and beef delights are served in elegant presentations that make them more digestible, at least at first sight. You can order tapas or have a big dinner accompanied by a good wine for just 35 euros per person approximately. The famous callos (tripe stew) can be enjoyed for less than 10 euros.
And we move from tradition to a fashionable exotic recipe such as ramen, served in a place that honours its name: Chuka Ramen (Calle Echegaray, 9). Here, you can enjoy this Chinese recipe with a Japanese twist. Ramen here is delicious but don't leave without trying its bao dishes, one of Madrid's best fusion cuisine dishes and which you can also try at Buns & Bones.
We finish off with another Asian cuisine star, the Delhi-style chicken tandoori with mint chutney. They don't offer it in just any Indian restaurant in Lavapiés, which are highly recommended by the way thanks to their unpretentious nature and excellent value for money, but rather at Benarés (Calle Zurbano 5). This restaurant was opened by the Indian chef Atul Kochhar, winner of two Michelin stars, and it will take you to the essence of Indian cuisine. This restaurant is one of the most popular and fashionable high-range Indian restaurants, offering also a spectacular interior restaurant among its many charms.
Bon appétit!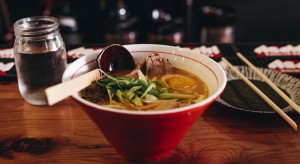 Categories: Gastronomía en Madrid
« It's time for hot chocolate!
The sweetest stairway to Christmas »