It's time for hot chocolate!
The cold has arrived and it's time to enjoy a delicious cup of hot chocolate. Chocolatería San Ginés (Pasadizo de San Ginés, 5)  is a café located a stone's throw from Plaza Mayor and Puerta del Sol which represents the safest bet for an excellent cup of hot chocolate. Despite the great popularity of its hot chocolate and churros and always being full, its staff are really efficient and manage to bring your order for breakfast or in the afternoon in under five minutes. Inaugurated in the late Nineteenth century, this café opens every day of the year for long hours and offers outdoor heaters so that you can enjoy your chocolate outside without feeling the cold.
Nearby is another similar option in case the previous café is too busy. It's not as popular as San Ginés but Churrería Los Artesanos, which opened in 1902, also knows how to make an excellent cup of hot chocolate for less than five euros, accompanied of course by churros or the thicker porras.
For a really affordable option with a more personal touch (these two aforementioned options are somewhat mechanised), La Austríaca (Calle San Onofre, 3) will surprise you thanks to the thickness of its chocolate and its incredibly low price. Next door is Horno de San Onofre a bakery that serves delicious homemade cakes, pastries, sponges and puff pastries that will make your jaw drop. Also, remember to visit Sampaka, located on Calle Orellana, 4, which prepares a delicious Aztec chocolate with a classic bitter twist that will leave you licking your fingers. Lastly, you can discover the options that chocolate itself can offer in different shapes and presentations at Chocolalabelga (Calle del Bonetillo, 1), a Belgian chocolate shop located in one of Madrid's most charming spots, behind Teatro Real. Visiting this popular and busy shop in itself is already a great idea but Chocolalabelga also shows why Belgium is the best chocolate-producing country (Switzerland permitting) in the world.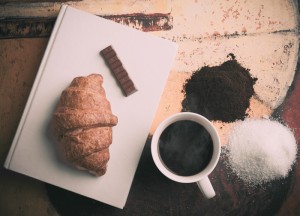 Categories: Gastronomía en Madrid
« A taste of Italy in Madrid
Good little things »