Gatoteca: The Bar for Cat Lovers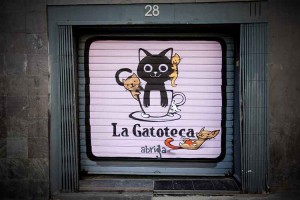 Can you imagine having a drink accompanied by a large number of beautiful feline friends? Now you can do this thanks to La Gatoteca, a space designed for cats -they are the kings- whose purpose is finding people who will adopt them. Of course, you don't need to adopt one when you go in; all you have to do is enjoy their company for a while, which you can do if you pay 4€ for 30 minutes, with a hot drink included, or 6€ for 1 hour.
You shouldn't expect a normal bar, because the place looks more like a home than a conventional bar. It was decorated by Alex, one of the project's promoters, and you get to the place after going through an entrance hall with a shop that sells a wide range of toys and gifts for cats. The cats inside are the ones that have it harder to be adopted due to problems like missing one eye or motor-skill problems.
Located at Calle Argumosa, 28, next to the Reina Sofía Museum, the space is designed for the world of cats from various angles. They host courses and workshops like the one that teaches cat communication and handling, which is planned for the upcoming 12th of April. It also teaches how to understand the messages that your cat sends you, detect signs that may indicate illness or basic care like nail cutting, brushing, etc. Courses last 90 minutes and cost 15 euros. Find more information here.
Don't miss the Feline Experience exhibition by Vanesa Soto that was inaugurated on March 6th, which includes different graphic representations that are on sale to the public and are related to our feline friends. If you don't fancy adopting a cat, at least you can take a piece of art back or any of the items that they sell at the shop. For sure that some of your friends who have cats will be delighted with your surprise for their beloved pet.
If you have time and like cats, why not drop by this place when you stay with us in our hotel in the centre of Madrid. We are sure that you will love it.
Categories: Guías Madrid
« Switzerland Exists! (Gastronomically Speaking)
Some Good Gigs »