Switzerland Exists! (Gastronomically Speaking)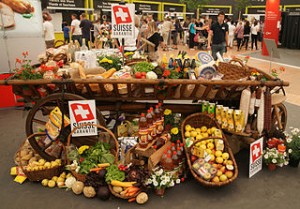 The Falciani List has put this country back in the news every day. Banks, tax havens, clocks, chocolates… doesn't Switzerland have any more elements? Well, in fact it does: its gastronomy, of which in Madrid there is a small yet representative selection.
"Many times copied, never matched" is the statement of the restaurant that claims to prepare not the best rump steak but the famous sauce that makes it possible. Labelled Cafe de Paris with the nickname L'entrecôte, it takes its name from the original restaurant that opened its doors back in the 1930s in Geneva. It was there were Madame Boubier created a famous sauce that would be transferred from generation to generation and that is sent ex profeso every week to this restaurant. With up 24 ingredients including spirits and aromatic herbs, the sauce is so powerful that it is part of a single-course gastronomic proposal.
This restaurant has a chic atmosphere, with maroon seats and the classic marble tables that we see in so many impressionist paintings, and it serves a menu that will delight even the most indecisive customers: all you have to do is choose how you want your meat cooked, the wine and the dessert. The menu costs 22 euros without including the drink. A plaque certifies the authenticity of the Café de Paris sauce, which gives this Francophile experience a somewhat unique touch. It is located on Calle Conde de Aranda, 11, very close to the Puerta de Alcalá.
From there we head to La Fondue de Tell, another place where you do not have to think too hard to choose what you want on the menu. Located on Calle Divino Pastor, in Malasaña, it is a small and cosy restaurant that is ideal for couples, where as well as fondues they serve raclettes, cheeses, salads and meat. It has Alpine-cabin decoration and a quiet atmosphere, typical in Swiss restaurants but that will most likely strike any other customer.
We highly recommend the Tell fondue, which is served with potatoes, onions, pickles, apple, pineapple and tomato. The menu, with drink and dessert included, is under 30 euros per person.
You can easily get to these two restaurants from our hotel on Calle Montera, in the heart of Madrid and 200 yards from the Puerta del Sol.
We finish this culinary trip to Switzerland in El Chalet Suizo, located in a small Swiss complex, between the Swiss Club and the Swiss School. Fondues, raclettes, cheeses and, take note, Café de Paris rump steak. Will it be as nice as the one in the first restaurant on this article? Check it out for yourself. However, for that you will have to go to Alcobendas.
Foto: Sandstein via Wikimedia Commons. Licencia CC 3.0.
Categories: Gastronomía en Madrid
« The most 'real' portraits
Gatoteca: The Bar for Cat Lovers »