Madrid turns into a Nativity scene for Christmas
According to the Holy Scriptures, over 2,000 years ago, a baby who would change the course of history was born in a town called Bethlehem. This scene is recreated every year in different art forms in places such as Palacio Real, which presents an emblematic Neapolitan Nativity scene that can be visited in its majestic rooms until the 8th of January. Entrance is free from 10.00 a.m. to 6.00 p.m., since this year they are commemorating the 300th birthday of King Carlos III, one of the most illustrious inhabitants of this palace. Where is it? In the Salón de Alabarderos in the Palacio Real. Find out more information here.
Another Nativity scene that you can't miss out on is the one at Puerta del Sol, located in the Real Casa de Correos, the building that presides the square. Here, you will be able to see the figure that the Nativity Scene Association of Madrid orders every year from Naples. This year, the chosen one has been King Carlos III, also a main character in this recreation since his statue will be watching over this site where the masses will congregate to celebrate the New Year on New Year's Eve.
Not far from here, although we recommend that you go early in the morning (it opens from 9.00 a.m. to 1.00 p.m. and from 6.00 p.m. to 9.00 p.m.), is the church of San Ginés (Calle Arenal, 13), which by the way is one of the city's oldest Catholic temples. They exhibit an original Nativity scene with life-size figurines that make up a so-called Baroque Mystery. You can visit it from the 17th of December.
We finish this quick tour of Nativity scenes by visiting the one set up by the Madrid City Council in Centro Centro, a combination of classical scenes such as the Annunciation and other less represented scenes such as the journey of the Three Kings guided by the Star of Bethlehem.
If you still want more, here is a list with plenty more suggestions.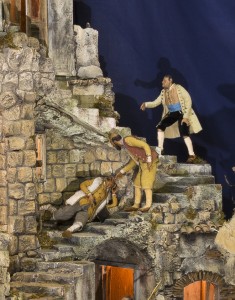 Categories: Arte y cultura
« The sweetest stairway to Christmas
The best art exhibitions of the month of December »