The best art exhibitions of the month of December
Here are a few recommendations to catch a break from the imperative Christmas spirit. If you still haven't visited the exhibition dedicated to Robert Doisneau, you have until the 8th of January to see the work of one of the photographers who best captured the spirit of Paris. Considered as a pioneer of photojournalism, his photographs have a warmth that make them unique, with images that have become famous worldwide such as The Kiss. Under the title 'The Beauty of Everyday Life', the exhibition gathers photos, some of them more famous than others, which make up the world that Doisneau captured, not like it was but more like what he would have wanted it to be. Enjoy it at Canal de Isabel II (Metro Plaza de Castilla). Free admission.
And from photographs to paintings, to a painter who specialised in still life in the Seventeenth Century: Clara Peeters, whose work is exhibited in the Prado Museum. It shows the virtuosity of this female painter who worked at a time when, unfortunately, women's art hardly had any recognition from the general public, although this now adds value to the paintings. Her works show great technique and are a treat to all visitors who enjoy the visual strength that comes from love of details. Enjoy it until February 19th. Find out more information here.
We conclude this brief cultural tour at Espacio Fundación Telefónica (Calle Fuencarral, 3, on the corner with Gran Vía), with the exhibition '1, 2, 3… Recording! A History of Musical Recording', which looks back at the evolution of sound and its processing, from the phonautograph from 1857 to modern-day application and software (Spotify, Deezer, etc.). This exhibition is full of landmarks that illustrate the history of its progress and technology, an evolution that seems to peak after every invention but which continues to surprise us time and time again. It also presents some of the black sheep of music technology such as the Mini Disc. Open until January 22nd. Admission is free.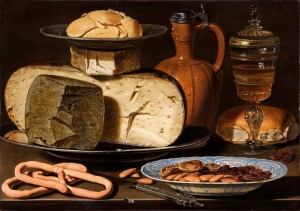 Categories: Arte y cultura
« Madrid turns into a Nativity scene for Christmas
Cafés with a soul »