Cafés with a soul
A coffee with foam in a shape of a heart is not enough for us. We want to enjoy it in a pleasant atmosphere where we can feel at peace with the world, at least for a little while, mostly thanks to its decoration but also for the character given to them by their owners. One of these such places is El Anticafé (Calle Unión, 2, Metro Ópera), a place that usually hosts photography exhibitions or poetry recitals in a fantastic location a few yards away from Teatro Real. Nearby is the recently opened bookshop La Buena Vida, (which, as its other name indicates in Spanish, Café del Libro -Book Café) combines coffee and books to perfection.
La Infinito (Calle Tres Peces, 22) is another charming place in touch with culture in the heart of Lavapiés. The Wi-Fi for computers is limited, although it works fine early on in the day. Its brunches are excellent and cost 8-10 euros, including fruit juice, yogurt and fruit, toast and coffee.
Hopping to another district, this time to Las Letras, we come across another recently inaugurated space, Forja de las Letras (Calle Cervantes, 10), a café/bookshop where you can spend the afternoon enjoying a nice coffee or a delicious Dostoyevsky tart prepared by Clea with vegan ingredients. This place oozes love for books and also hosts different literary activities. Visit it to find out more.
For a more recreational activity, Café Manuela is the ideal place to spend an afternoon playing Trivial Pursuit or chess among the many other board games at your disposal. Located in the heart of Malasaña, this place is a welcome counterpoint to other classic cafés in the area that aren't as attractive, such as Pepe Botella, Café de Ruiz or Café Ajenjo, next to Café Ruiz, all of them located around Plaza Dos de Mayo.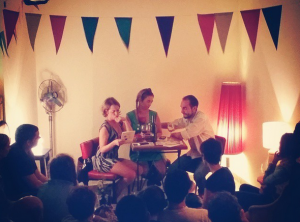 Categories: Arte y cultura, Gastronomía en Madrid
« The best art exhibitions of the month of December
In wine shop veritas »