In wine shop veritas
There are few pleasures comparable to enjoying a nice glass of wine surrounded by bottles of wine. Wine lovers are well aware of this, which is why they are going more and more to these places dedicated to the sale of Bacchus' favourite drink. Since glasses of wine now cost on average more than 2.50 euros (unless you drink in greasy local bars), it's not a bad idea or excessive to order a full bottle. This is what you can order in wine shops/bars such as La Fisna (Calle Amparo, 91), which offers a large selection of wines that would knock any wine expert back. Its new location, in another spot in Lavapiés, gives it more space and elegance, with the added plus that they also serve dishes for pairing, such as callos or gourmet cheese plates.
At Vinopremier (Calle Valverde, 29), corkage fee is 5 euros but the variety is so extensive that it won't seem like much at all. This is a pleasant place on a street with character where you can also enjoy craft beer on tap and some delicious tostas.
De Vinos (Calle La Palma, 76, Malasaña) has a special charm in an old-looking Nineteenth-century interior knowledgeably adapted to current times. On Wednesdays, they host wine tastings and they promote different options such as Vermouth Hour from 1.00 p.m. to 4.00 p.m., when they serve vermouths like Lustau, made in Jerez.
The shops that the Stop Madrid group has opened in recent years are worthy of a visit, since you can order full bottles without a corking fee (although it's included in the price in many of them, which differentiates it from outright wine shops). The one they have recently opened at number 10 on Calle León, in what used to be León de Oro, has an excellent atmosphere. If it's too full, Casa del Pueblo right in front of it is also an excellent option.
However, if there is a wine shop with a reputation in Madrid, that would be Lavinia, located on the luxurious street Calle Ortega y Gasset, 16. This shop is 100% committed to wine, offering hundreds of references as well as wine-tasting courses and wine tastings in the same space without the need to book in advance. Come and try it!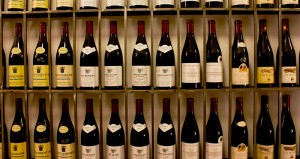 Categories: Gastronomía en Madrid
« Cafés with a soul
Culture in Lavapiés »