Montera Street in Madrid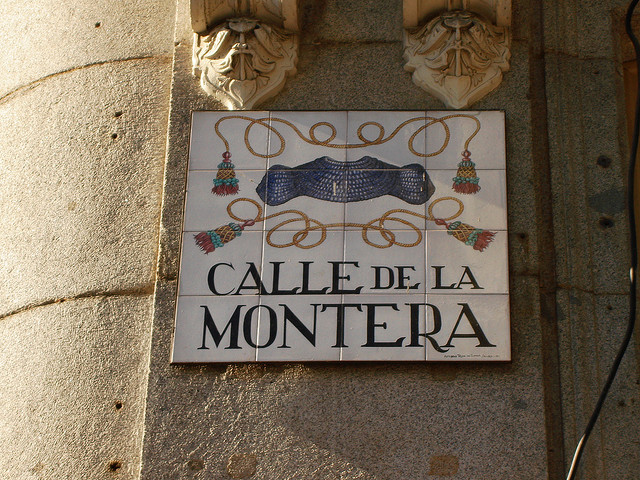 Calle Montera is a street that owes its name to the traditional bullfighter hat but, did you know why this garment has a street in Madrid? Here are some of the most popular stories, somewhere in between fact and fiction.
MADRID'S LANDSCAPE
The most popular explanation is also the simplest. Before that the city limits of Madrid reached this street that today connects Puerta del Sol and Gran Via, they said that the lands that you could see from here to the outside looked like the tips of a montera, the bullfighter hat. Hence that it was given this name when the street was inaugurated.
THE KING'S BRAVERY
King Sancho IV, also called The Brave, crossed Madrid on a horse where today we find the Puerta del Sol. He was in such a rush that his montera fell to the floor just a few yards from our hotel, right where the street begins.
The king, showing off the strong personality he was known for, was very angry because nobody notices and had offered to give it back. The people of Madrid, who enjoyed a good joke, quickly made up popular sayings that made reference to this story.
THE DEMURE LADY
The third story has nothing to do with bullfighting but rather with the wife of an important hunter from the court of King Felipe III who lived on this street. It seems that she was a very beautiful woman who aroused the passions of the most important knights of the kingdom. Writers such as Pedro de Répide tell that when she went to mass, the noblemen lunged in front of her just to have the privilege of getting a look at her.
However, she never wanted anything to do with lovers and was loyal to her husband, rejecting everyone who approached her. The verses of Narciso Serra refer to this lady, with which we put an end to this post:
«Que si usiría viniera,
aquí de alcalde menor,
que es mucha calle, señor,
la calle de la Montera»
HOTEL ATENEO AND CALLE MONTERA
In the urban geography of Madrid, the street where our establishment is at is a small and famous pedestrian street that links Puerta del Sol and Gran Vía. Our hotel on Calle Montera is located approximately half way up the street, between these two emblematic locations.
Categories: Guías Madrid, Sin categoría
« Three proposals to experience Madrid like a true local
Breakfast in Bed Hotel in Madrid »