Breakfast in Bed Hotel in Madrid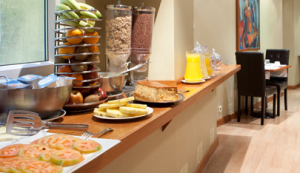 Would you like to start the morning at your own pace? You don't fancy coming down to our restaurant to enjoy the first meal of the day? At Hotel Ateneo we have a breakfast-in-bed service so that your awakening in the centre of Madrid is as pleasant as possible.
If you'd like to enjoy our breakfast in your room and you are staying in some of our junior suite rooms, simply tell our staff at reception in advance so that we can bring it to you at the time that you wish for.
Treat yourself to a great start to the day in Madrid by having breakfast quietly in your room or pamper yourself and your partner with a romantic breakfast in bed during your city break.
Breakfast in your room is just yet another service that we offer at Hotel Ateneo, one of the most comfortable accommodation offers at a reasonable price in the centre of Madrid.
Located between the Puerta del Sol and the Gran Vía –next to the main shopping and show areas of Madrid-, our hotel is a fantastic accommodation option in the city centre, whether you are visiting the Spanish capital on business or for pleasure.
Also, if you stay with us you can make the most of the offer that we have available for our tenth anniversary, which includes our well-loved buffet breakfast, free Wi-Fi, a fruit basket and a bottle of Rioja wine by booking directly through our website.
You can find out more or check the dates valid for this promotion by clicking on this link.
Categories: hotel
« Montera Street in Madrid
Best Football Atmosphere in Madrid at Hotel Ateneo »