Best Football Atmosphere in Madrid at Hotel Ateneo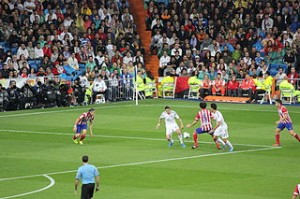 Madrid has enjoyed the privilege this year of having the two best teams in Europe, as Real Madrid and Atlético Madrid reached the Champions League Final, the biggest football competition in Europe. If the atmosphere on the eve of the great games was always special, this year it has been even more. A unique occasion to sample it from Hotel Ateneo.
Atlético Madrid – the surprise package of the tournament- managed to reach the final of the Champions League after beating Chelsea while Real Madrid dispatched last year's winners Bayern Munich with ease. These are the two best teams we have in Europe right now with two of the most passionate fan bases on the continent.
The stadiums of Real Madrid and Atlético Madrid are located in opposite areas of the city. The Santiago Bernabéu Stadium is located in the district of Charmartín, in the northern area of the city, while the Vicente Calderón Stadium is located next to the Manzanares river, where the southern area begins. However, when the visiting fans come to the city they usually stay around the city centre, so our location –on Calle Montera, a stone's thrown from the Puerta del Sol– is fantastic to experience the atmosphere of a great football game in Madrid.
Stay with us when you come and watch the great football matches in Madrid and -aside from your stay being fantastic value for money- you can enjoy the best pre-match atmosphere just by walking around our hotel.
If you want to go to the stadiums, it's very easy. For the Atlético Madrid stadium you can take Line 5 of the Metro to Gran Vía -just 200 yards from our hotel- to Pirámides, or even, if you fancy  a walk to enjoy the atmosphere, you can enjoy a 30-minute one all the way to the stadium. On the other hand, if you want to go and watch Real Madrid, both at Sol and Gran Vía you have Metro lines that link directly and quickly with Line 10, which leaves you at the Santiago Bernabéu stop.
And since we are on the subject, if you are coming to Madrid to watch football, have you checked the offers at Hotel Ateneo? We will definitely offer you the best price on the Internet.
Categories: Guías Madrid, hotel, Leisure and Events Madrid | Blog Hotel Ateneo
« Breakfast in Bed Hotel in Madrid
Palacio de Cristal in El Retiro »