Palacio de Cristal in El Retiro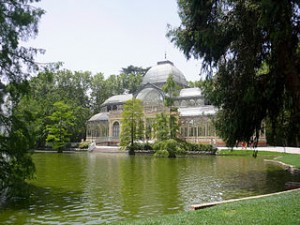 El Retiro Park has nothing to envy from other famous parks in the world. Integrated in the city today as one of its fundamental lungs, at the time of its foundation, its 358 acres (now 464) represented almost a quarter of the total size of the city, if one looks at the famous map of Teixeira from 1656.
Created as recreational gardens of the court of king Felipe IV, around the Monastery of Los Jerónimos in Madrid, the park soon began to hold different buildings, such as the Teatro del Buen Retiro, a theatre where some of the most famous plays from the 16th century took place (a time known as the Siglo de Oro which translates as the Golden Century). The park was advancing but that did not mean that the citizens could not enjoy it and it was king Carlos III, known as the "mayor king", who allowed the people to come and enjoy it.
Among the different constructions that stand out in this aristocratic forest is the Palacio de Cristal, a crystal palace built in 1887 for the Exhibition of the Philippine Islands which was a representation of the architectonic skill of the time. Currently, it is one of the venues for the Reina Sofía Museum, as is the Palacio de Velázquez, although its true value resides in the lightness that its metal and glass construction shows as well as the lighting effects created inside of it.
Inspired by the design of Hyde Park's Crystal Palace in London, the construction of this "glass cathedral", as it was known back in the day, caused a huge impact at that time and it contributed to increase El Retiro's rich heritage. At the feet of an artificial lake, it is recommended that it is viewed from the outside, a temptation for amateur photographers, but it's also possible to visit it inside. Opening times are from October to March every day from 10am until 6pm, and from April to September from 10am until 10pm.
El Retiro is one of the most typical sites that you can visit in Madrid. From Hotel Ateneo Puerta del Sol you can get there with a nice 20-minute walk down Calle Alcalá, going through some of the most famous tourist sites in Madrid. Alternatively you can take Line 2 of the Metro at Sol to Retiro, just three stops that will leave you right at the park in just over 10 minutes.
Categories: Guías Madrid, tourism
« Best Football Atmosphere in Madrid at Hotel Ateneo
Guadarrama Mountains »