Guadarrama Mountains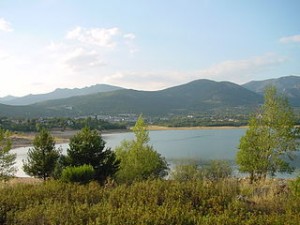 What would the region of Madrid be without the Guadarrama Mountains? With permission from the people of Castilla-La Mancha, it would reminisce of the vast plains that Cervantes immortalised in his famous work, a bit repetitive for our souls. Luckily, Madrid has excellent communications with its mountains, the Sierra de Guadarrama, which allow for many excursions, historical trips and sports trips, such as hiking, walks and even climbing.
From our hotel it's very easy to get there by public transport. Barely 300 yards from our door you can find the train station of Sol that will allow you to get to towns like San Lorenzo del Escorial or Cercedilla; if you prefer to take the bus, from the Moncloa bus station you can take many buses that go there. To get to the bus station, take Metro Line 3 from Sol.
For the monumental part, the visitor who arrives in Madrid should not miss out on a visit to San Lorenzo del Escorial and its homonymous monastery, built as a retreat spot for king Felipe II as he searched for peace and quiet. The town is also ideal to walk around and enjoy its flavour of a tourist town for the upper bourgeoisie, with small attractions such as the 'chair' of Felipe II, a simple rock where he went that offers the best view of the monastery, whose construction started in 1563. Mount Abantos, which surrounds the historical location, is a great option for nature and hiking lovers, with perfectly delimited routes such as Los Tesoros de Abantos.
Declared a National Park in June 2013, Sierra de Guadarrama offers many routes of different degrees of difficulty. La Pedriza is as beautiful as it's popular, and also accesses the area of Cotos, where you can find natural ponds where you can have a nice dip. Also recommendable is the area of Peñalara and the one of the Valley of Lozoya, a river that provided water to the city of Madrid for many years.
Without fully going to the mountains but still in its nearby area, you can visit Mount of El Pardo, located just 4 miles from Madrid and that combines environmental values with historic-artistic ones. Among the latter, the Palacio Real, which among other things was the residence of General Franco. A few miles to the south is the residence of the current Spanish monarchs, the Palacio de la Zarzuela.
Categories: Guías Madrid, tourism
« Palacio de Cristal in El Retiro
Cemeteries of Madrid »