Cemeteries of Madrid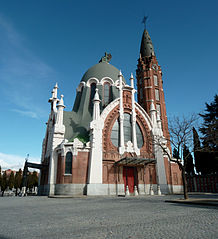 Why cannot cemeteries be tourist sites? It is the case in Paris, where the cemeteries of Montparnasse or Père Lachaise (famous among other things for being the resting place of Jim Morrison) receive thousands of visitors every year. Another example would be the Colon Cemetery in Havana, declared a National Monument of Cuba.
In Madrid, the cemeteries are not of that category nor do they attract so many visitors but nevertheless they are curious places that are off the beaten track. The book Curiosidades de los cementerios de Madrid (Curiosities of Madrid's cemeteries) by José María Escudero is a good guide to discover anecdotes related with the exequies in cemeteries located in old squares in the city. Its pocket size allows you to take it with you en route and follow its directions. Even though the Almudena cemetery is the main cemetery and the largest one, there are others, like the San Isidro Cemetery, resting place of the Cuban dictator Fulgencio Batista.
However, if there is a curious cemetery worthy of being visited that would be the Cementerio Civil. Annexed to the Almudena Cemetery, it has traditionally been the final resting place for those who reject a traditional funeral officiated by Catholic rites. And so, you can see the graves of famous people who decided to be buried in an alternative cemetery, such as writer Pío Baroja or a series of 'progressive' politicians such as Nicolas Salmerón (old president of Spain's First Republic), Pablo Iglesias (founder of the Spanish Socialist Party) or Dolores Ibárruri (known as "La Pasionaria", a communist leader of the Spanish Civil War).
It is a great prelude if you later want to visit the Almudena Cemetery, which occupies 345 acres of land and is one of the biggest in Western Europe. It is a great place to access history from another angle and see monuments to fallen soldiers from wars such as those in Cuba and Philippines; the soldiers of the División Azul (the Blue Division that served in the German Army in World War II) and the Trece Rosas (thirteen young women executed by a fascist firing squad after the Spanish Civil War).
It is a curious -and little known- side of Madrid, one of the many that we can discover if we look around the many secrets that the city hides. If you come to visit it, remember that our Hotel Ateneo is a budget three-star hotel in the centre of Madrid (we are next to the Puerta del Sol and the Gran Vía), which will offer you excellent value for money for your stay in the city.
Categories: Guías Madrid, tourism
Comments
« Guadarrama Mountains
Paella in Madrid »