Paella in Madrid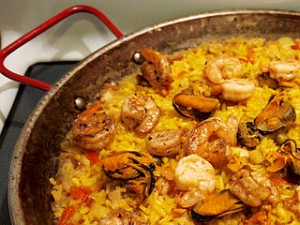 The star dish of Valencia's gastronomy is also served in Madrid, because Madrid is a melting pot of all the different parts of Spain when it comes to food. In the early 20th century there was an 'invasion' of Basque and Catalan restaurants in the city, as Catalan writer Josep Pla remembers in his Madrid diary: "The Basques have two monopolies in Madrid: the banks and the restaurants".
However, going back to the paella, it's true that this traditional dish has never had the quality that it should have outside its place of origin. In fact, in 2013, a group of Valencian residents in Madrid founded the Paella Community, tired of being given a poor substitute for the real thing. They went to all the paella restaurants in Madrid with a critical eye (and palate) and because this initiative was highly welcomed, they ended up creating some sort of paella Wikipedia where they detailed all the different restaurants they reviewed in the different cities.
In Madrid, there is a ranking that is headed by the following restaurants: Casa Valencia, El Garbí, Samm and La Buganvilla. They also try to prevent people of going to places that, in their opinion, are not worth it. This community can be a great orientation to enter the delicate world of the paella in Madrid. Their recommendations may be debatable and their judgement perhaps too demanding but their tips are definitely better than just going for some paellas that some tourist restaurants offer or, even worse, those served in buffets.
Coming to Spain to eat paella and eating a bad one is ruining your experience with this dish for life. Therefore, we recommend guests staying at Hotel Ateneo Puerta del Sol that, before diving into one of the thousands of restaurants in Madrid where you can eat paella, you find the ideal restaurant in this small and knowledgeable community of experts. You will definitely find one close to our hotel. However, we are located in the heart of Madrid.
Categories: blog, Gastronomía en Madrid, Guías Madrid, tourism
« Cemeteries of Madrid
Brunch in Madrid »