Brunch in Madrid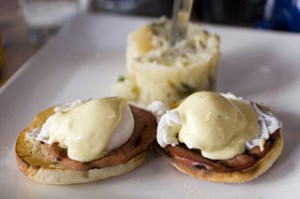 From the contraction of breakfast+lunch we get the word 'brunch', a particularly good option on weekends and especially Sundays, when you do not have to get up early and when the fusion between breakfast and lunch allows for a day of sightseeing with maximum energy without having to stop to eat.
Timetables aside, many of the establishment that have specialised in brunch offer very interesting menus. One example is Carmencita, whose Eggs Benedict, with a salmon or bacon base, are a succulent dish, especially after a late night out. The price is also tempting (approximately 15 euros per person), one of the reasons why the place is always full, which means that an advance table booking is a must. We also recommend 'mimosa', a drinks made with cava and orange juice that accompanies the house dish harmoniously. One glass is just 1 euro.
For lovers of the classic English breakfast, Mür Café offers sausages, bacon, eggs and baked beans with coffee, juice and some other complement for 13 euros. Located very close to Plaza de España and the Centro Conde Duque, it can be a great start to a weekend day. This district, Justicia/Universidad, between Plaza de España and San Bernardo/Plaza Dos de Mayo, is the one that gathers the most brunch restaurants. Do not miss out either on El Federal Café, a place that has been recently inaugurated with its large windows and modern atmosphere that serves a special house juice filled with energy and health: the Tommy. You can combine eggs with feta cheese and its delicious carrot cake for just 18 euros per person.
In another area of Madrid, the most central and typical one, next to Puerta de Alcalá, you can find Ramsés, a more chic restaurant and therefore more expensive (from 35 euros). However, even Queen Letizia has been known to visit this place, designed by no other than Philippe Starck.
These are the different options to enjoy this import from New York that is slowly growing in cosmopolitan Madrid. However, at Hotel Ateneo we can offer you something that nobody can: breakfast in bed, so you can start your day in Madrid by eating brunch in your very own room.
Categories: Gastronomía en Madrid
« Paella in Madrid
The Best Cheeses in Madrid »