Ponzano Street will seduce you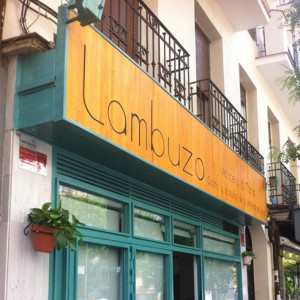 There are streets in Madrid that are worth telling in a special chapter. Calle Echegaray, Calle Santa Isabel, Calle Hortaleza… and Calle Ponzano. Located in the Chamberí district, in the last few months it has become a place for food and drink pilgrimage thanks to its variety in bars and restaurants, all of them very attractive and very close to each other.
The tapa is one of the queens of this gastrostreet and it acquires all of its splendour in bars like La Contraseña, a modern space with a cosmopolitan atmosphere decorated in soft wood and built on an old milk shed. Some say it's just "another cool place" but others value its sophistication in such a classic district. It's best if you check it out for yourself and make your own mind up. It also serves gin and tonics of the highest quality that you can enjoy at a table or sitting at the bar with some pintxos.
Next to it is Lambuzo, at number 8, dedicated to cuisine from Cadiz of the highest quality, with valued products such as the ortiguilla (deep-fried sea anemone), tuna in different presentations, mojama in olive oil, salmorejo (thick vegetable soup) and different regional white wines.
Also write down the groundbreaking Sala de Despiece, a contemporary place with a ceiling filled with windows that serves daring dishes such as coconut ceviche, although they are receiving an incredibly good critique. It is a place that has been mentioned in the New York Times, with all the fame that comes with it, so it is best if you go during less busy hours. Despite all of its sophistication, the dishes are presented in a simple manner, prioritising the quality of its products, as is the case especially with its meat.
These are just some suggestions in a street that is not suitable for indecisive people, where you also have other more classic bars and restaurants that serve excellent seafood, such as O'Conxuro or La Parroquia de Pablo. Another famous place is Fide, a traditional place that serves an excellent beer on its legendary marble bar.
You can get to Calle Ponzano easily from Hotel Ateneo Puerta del Sol by taking Line 1 of the Metro from Sol to Ríos Rosas.
Categories: blog, Gastronomía en Madrid
« Some Good Gigs
Enter the House of Cervantes »