Enter the House of Cervantes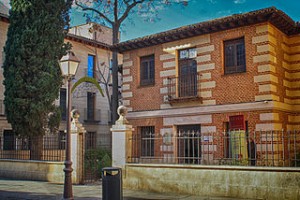 It was confirmed, although without the definitive scientific proof, that part of the mortal remains of Miguel de Cervantes are located in the convent of Las Trinitarias (Barrio de las Letras) in Madrid. For this reason, the interest in the writer has risen even more, if that was even possible. It is a finding that actually coincides with the 400th anniversary of the publication of the second part of his immortal book, El Quijote.
Cervantes died in number 2 the street that bears his name, very close to the aforementioned convent. However, where was he born? We know that he was born in Alcalá de Henares in 1547 but the exact place is not completely clear. However, several studies concluded that the part of land that is hosting the reconstruction of his birthplace was the point where Miguel de Cervantes was born.
The house-museum, inaugurated in 1956 as a Cervantes Museum and Library, is a reconstruction of the original building that was there, which includes a garden and a different access to the original one. The rooms are distributed throughout two floors around a patio with columns, and there are traditional elements like the well that the family used to use and the social room; in one of them, Cervantes' father, a doctor, used to treat his patients.
The museum has a varied programme that includes talks and conferences, and a special day on the 18th of May, which is International Museum Day.
It is a perfect excuse for a day trip to Alcalá de Henares, the historic university city declared a World Heritage Site in 1998, which offers different points of interest such as the Corral de Comedias on Plaza Cervantes, an open-air theatre on Plaza Cervantes, with tickets costing three euros and guided tours available. More information at +34 91 882 13 54.
The University is also a must-see, with a tour that lasts for 45 minutes and that allows you to discover what education and teaching was like back in the 16th century. The Plateresque-style San Ildefonso School, shows the details of university life back in the Spanish Golden Century, with illustrious students like Lope de Vega, Calderón de la Barca, Ignacio de Loyola or Francisco de Quevedo among many others. More information at +34 91 882 13 54 and here.
All of this is just 50 minutes away from Madrid, with easy access on the Cercanías trains from Atocha Station. It is also easy to get there from our hotel in central Madrid, since we are connected with the Cercanías network in Sol station, 300 yards from where we are.
Categories: Arte y cultura, tourism
« Ponzano Street will seduce you
Madrid and all of its jazz »