Madrid and all of its jazz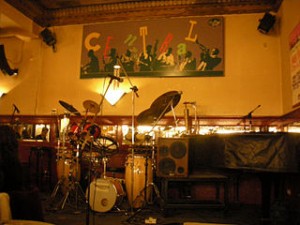 For jazz lovers or for what jazz brings to a conversation with a gin and tonic in hand, Madrid offers a varied offer of clubs that play the best live jazz music.
In Plaza del Ángel, one of the liveliest areas in Barrio de las Letras and, therefore, of the whole of Madrid, you can find Café Central, a place with 30 years of history and thousands of concerts in its past. It is a cosy vintage-style bar that, with its large windows, welcomes everyone to come in, especially if you can hear the sound of a great jazz band coming from the inside. Café Central has seen performances of artists such as George Adams or Lou Bennett. However, it also lends its stage to other musical genres, such as flamenco or other popular ones. The entry price is also reasonable at 12€.
On Plaza Santa Bárbara is Club El Junco, a darker and more underground venue. El Junco offers daily jazz and blues concerts and DJs on weekends that play a mix of jazz, funk, soul and fusion, more for the crowd who like to dance. During the week, concerts cost the affordable sums of 6€ with a beer or 9€ with a mixed drink.
For jazz purists, Le Swing Jazz Club is, without doubt, the best option. Located inside a residential building, this club is usually a meeting point of jazz musicians and experts. It is a private club located on Calle Doctor Cortezo, which means that if you want to go you have to previously call 662557366 and put your name down on the list. Afterwards, get comfy in one of its armchairs, ask for a drink and enjoy this unique jazz-loving enclave.
Come and enjoy jazz in Madrid and stay at Hotel Ateneo Puerta del Sol. Our central location is perfect and unbeatable, and if you book on our website you will get excellent value for money and exclusive offers that you won't find in other websites or agencies.
Categories: Noche de Madrid
« Enter the House of Cervantes
A Circular Tour around the Hearth of Madrid »