A Circular Tour around the Hearth of Madrid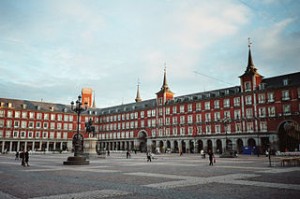 Luckily, Madrid is a city that is easy to walk around in, without huge hills and with many attractions for the eye. Because of this, here is a circular tour to discover the most charming places in the city in just a few hours.
To start in order, we are located in Kilometro 0, the famous starting point of every Spanish road and underneath the clock of the Town Hall, in Puerta del Sol. We take the western route on Calle Arenal and stop at the legendary chocolate shop San Ginés and its passage, the one that Max Estrella went through in the night that brings to life Ramón del Valle Inclán's famous work Bohemian Lights. At the end of Calle Arena, we come to the Teatro Real.
Behind we have Plaza de Oriente, presided by the majestic Palacio Real. We can go inside and see, for example, the exhibition that is open until May 31st called Portraits in royal collections, which collects many different royal portraits by artists that go from John of Flanders to Antonio López.
Next to it, like if it were its right hand, is Almudena Cathedral, a temple built during the 19th and 20th centuries that mixes architectonic styles such as Neo-gothic, Neo-classic and Neo-romanesque. Entry is free but it is customary to make a donation of 1 euros for the building's maintenance.
From there you can walk down the streets to San Miguel Market, where you can have some tapas and a glass or two of wine. You can also go to Cava de San Miguel and find a unique spot: Mesón del Champiñón which has been serving its delicious mushroom tapas (champis) for over fifty years.
Right behind Mesón del Champiñón is Plaza Mayor. Its south-western gateway takes us to the district of La Latina, its south-eastern one to Lavapiés and the north-eastern one to the Barrio de las Letras or to Sol, our starting point. Any option is a good one.
Categories: Arte y cultura, General, Guías Madrid
« Madrid and all of its jazz
Three Excellent Plays in Madrid »