Three Excellent Plays in Madrid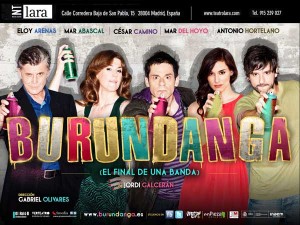 There is still time -until late June- to see one of the most outstanding and surprising plays in recent years, considered by many a risky montage and hilarious by others. We are talking about Burundanga, a comedy that after its success in Teatro Maravillas has now moved to Teatro Lara (Corredera Baja de San Pablo, 16). It is a strident, sometimes frivolous, loud and crazy play starring an excellent Eloy Arenas, in a play that leads to reflections on love and who we really are after the effects of the drug that gives its name to the play. Tickets cost 15 euros and you can buy them here.
At Teatro Rialto, Gran Vía, 54, you can attend the latest showings of Buena Gente (Good People), one of the most acclaimed plays by David Lindsay-Abaire, a Pulitzer award-winner who deals with substantial matters of real people. Veronica Forqué is in the starring role as a single mother of a disabled woman, who finds her way to pay the bills and whose only enjoyment comes from bingo. Everyday life problems in a play that puts us in front of a mirror of society that distances itself from the fairy tales that some films try to make us believe exist. Tickets cost between 15 and 16 euros and there are different discounts depending on the day of the show.
We have up to the 12th of July to discover Anton Chekhov's more humorous side in "Atchooo!", based on texts by the famous Russian playwright. Written in his nom de plume back in the day, these works portray different down-and-out characters, with their misery and pettiness yet also with truth and dignity. The cast is made up by Ernesto Alterio, his sister Malena Alterio, Adriana Ozores and many other famous actors and actresses. Substantial fun and a merciful view on those who were born in life's tougher parts in Teatro La Latina (Plaza de Cebada, 2). Tickets range from 10 to 21 euros.
If you are coming to Madrid to enjoy the theatre, stay at our hotel in Puerta del Sol. We are in the best location to enjoy the theatres in the city and we have large and comfortable rooms that represent excellent value for money.
Categories: Arte y cultura, blog
« A Circular Tour around the Hearth of Madrid
A Basic Guide of Madrid's Terraces »