A Basic Guide of Madrid's Terraces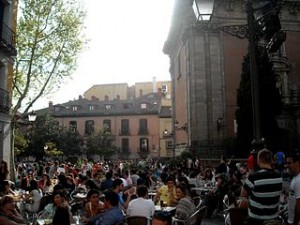 It is summer's most popular word. Together with "beers", "it's so hot!" and "mojitos", "terraces" is something that everyone wants to enjoy, almost like a fever. So, which terraces to go to? One of the streets that is becoming more and more popular with its terraces is Calle Argumosa. It used to be a street that was inhabited strictly for neighbours of this district (Lavapiés) and sympathisers of its multiethnicity but now it's a much more open space where it is slowly becoming hard to walk around due to the crowds. Casa de Asturias (with its potatoes with its Cabrales cheese sauce or traditional tapas like pork ear), El Económico, Fundamental, Revuelta, La Buga del Lobo, El Automático… The street seems limitless and the truth is that it has an excellent atmosphere and plenty of character.
Not far from there is another square to bear in mind for terrace experts: Plaza Tirso de Molina. Plenty to choose from albeit the traditional choices, such as beers and a free tapa or two if you are lucky. Recently, an Indian restaurant opened its doors which is now one more of the many restaurants of its type that you can find (see Calle Lavapiés and Calle Ave María). Also write down the terrace of Casa de Granada, and we say terrace literally because it's located on a sixth floor (Calle Doctor Cortezo, 17, 5th & 6th floors).
We stay on this itinerary that can easily be done by foot and whose next stop could easily be Plaza de Santa Ana. You can order many different kinds of beers in the many bars that are spread all over the square, such as the German bar Cervecería Alemana, or try some gastronomic delights of fusion cuisine at Lateral.
Another great place for terraces is Plaza de Santa Bárbara, which would be more appropriately named as a boulevard, since that is the aspect that it presents. Those on a budget can go to 100 Montaditos, where they sell large beers for 1.50€ (although you have to grab them from the bar yourself), or the traditional charm of the classic bar Cervecería Santa Bárbara and its classic-style waiters.
There are also three squares in Malasaña that you should visit: Plaza Dos de Mayo (and Calle de Ruiz), Plaza de Juan Pujol and Plaza de San Ildefonso.
Come and enjoy Madrid at Hotel Ateneo. We are in a fantastic location, in the heart of the city, from where you can reach any tourist site by foot. We offer comfortable rooms and a fantastic breakfast buffet at excellent value for money.
Categories: Gastronomía en Madrid, Guías Madrid, tourism
« Three Excellent Plays in Madrid
New Places with a Cool Flavour »