New Places with a Cool Flavour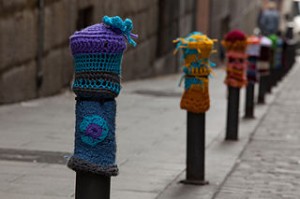 Gentrification divides Madrid's inhabitants. On one hand, some defend this phenomenon that cleans up some districts and modernises them, changing the landscape from traditional greasy bars to sophisticated restaurants; yet on the other, some believe that these new trends kill the district's authenticity.
Meanwhile, districts like Lavapiés are proof of advances in gentrification. Calle Santa Isabel is one of the streets that has changed the most and still preserved its essence. One of the newest restaurants to open here is Buns & Bones, next to Antón Martín market and in front of the bookshop La Fugitiva. Open onto the street, it is a restaurant of Asian inspiration where they serve delicious sandwiches in dumpling-style bread and other snacks in a sophisticated atmosphere. You can find it in front of the ever-lively terrace of Más Corazón, filled with local people from the district and film fans who attend La Filmoteca.
Not far is Los Porfiados, a restaurant that emerged from the love of cooking that its owners have, who guarantee homemade dishes made with natural products in a pleasant atmosphere on nearby Calle Buenavista. Going down the street we come across Los Chuchis, a restaurant that could well be in Chueca and that offers informal English cuisine at budget prices.
Leave Lavapiés behind and head to the area known as Triball, behind the Gran Vía, where you can have a walk around Corredera Baja de San Pablo. Some say this is a piece of Brooklyn in Madrid, with new bars such as El Galleta, ideal for lunch or dinner with your partner. They offer modern classics such as the tuna or salmon tartar, as well as traditional dishes such as the 10 vetas Iberian ham. It is a large and bright restaurant that is elegant without being too cloying or old fashioned. You will also like Kikekeller, on number 17 of the same street, a place furnished with good taste where you can also buy this furniture or even try some of the great selection of beers and drinks that they have which they prepare with plenty of elegance.
Corredera Baja de San Pablo is just a 10-minute walk away from our 3-star hotel in the centre of Madrid. Don't miss out on visiting it if you have some free time during your stay in our hotel.
Photo: Álvaro León via Wikimedia Commons. License CC 3.0
Categories: Gastronomía en Madrid
« A Basic Guide of Madrid's Terraces
The frozen life of house museums »