The frozen life of house museums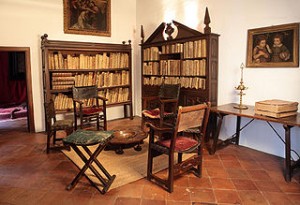 When referring to frozen, we weren't talking about the air-conditioning inside these houses but rather about the fact that time seems to have stood still whenever we enter them. They all exhibit items that were there when their illustrious owners lived inside, everyday objects that stand still as time goes by, impregnated by their owner's soul.
You can see all of this in the Lope de Vega House Museum, on Calle Cervantes -a historical paradox, since the author of Don Quixote actually died on this same street- , a house that represents traditional Castilian architecture. This house museum is more than just that, since it also organises a small outdoor summer cinema in its garden and different activities, such as recitals and theatre plays. Entry is free but you have to book in advance by calling +34 914 299 216 or by writing to casamuseolopedevega@madrid.org
The Joaquín Sorolla House Museum also has incredible value, especially because not only can you see the residence of this world-famous Valencian artist but also a considerable amount of his works. Built in 1910, the artist lived in this house with his family and, after his death, his widow Clotilde issued a will to donate all of his goods to the Spanish State so that they could found a museum in her husband's memory. You can visit different rooms, which include the artist's study and the gardens, in which the artist was involved directly. Located on Calle General Martínez Campos, 37, it is an ideal cultural activity for the summer thanks to the museum's Mediterranean feeling. General admission costs 3 euros. Closed Mondays.
At the end of Calle Serrano is a museum of great value dedicated to the figure of the Navarrese magnate and art collector Lázaro Galdiano. Located in an old mansion, visitors can enjoy some of the collections that, as a bibliophile, this culture lover amassed. It is a similar case at the Cerralbo Museum, the house of an art-loving aristocrat which can be visited to see his artistic treasures in a traditional late Nineteenth-century residence of a rich bourgeois family.
You can enjoy Madrid's full cultural programme from our hotel in Puerta del Sol. Book now on our official website and enjoy exclusive discounts unavailable on other booking channels.
Photo: Estudio Lope de Vega via Wikimedia Commons. Licence CC 2.0.
Categories: Arte y cultura, blog
« New Places with a Cool Flavour
Long Life Ceviche »