Long Life Ceviche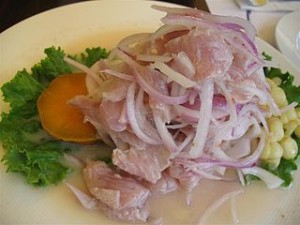 There are not many products that are as fresh and light as ceviche, with its touch of coriander and soft taste of raw fish. In the last few years, a series of restaurants that specialise in this fish have opened in Madrid, as well as many that incorporate this dish on their menus. On Corredera Baja de San Pablo, 37, there is a restaurant whose name means you can't miss it: El Ceviche, an unpretentious restaurant with informal "decor" (ceiling fan and TV) that will make you feel like if you are in Peru. It has a lunchtime menu that just costs 9 euros and that includes ceviche of a quality that is more than acceptable for the price you pay, accompanied with corn tortillas with a unique flavour. A trip to the depths of Peru without leaving Madrid. In nearby streets, such as Calle Puebla and Calle Barco, you can also find similar restaurants that mostly cater to immigrant population.
Alma Llanera, on the aforementioned Calle Barco, is a tidier place with white tables that serves traditional food from Venezuela, Ecuador, Colombia or Peru, without forgetting, of course, of fresh ceviche. They also have a very cheap weekday lunchtime menu.
However, those who wish to try ceviche directly must do so at La Casa del Ceviche, located in a somewhat secluded area, on Calle San Felipe, 11, (Tetuán metro). It is a simple and small restaurant run by an aging couple and yet its flavour is as authentic as they come, far from the more artificial fusion-cuisine restaurants that you can find in the city. It has excellent reviews among which it includes reviews from ceviche gourmets, who go there especially for it since it is made in a humble and unpretentious way. Low prices.
Another place that is very famous and in all guides with excellent reviews from clients is La Cevicuchería, on Calle Téllez, 20, (Menéndez Pelayo metro). It is a more upscale place with carefully prepared dishes, such as the ceviche itself, which is served in three different types: ancestral, classic and modern. Also, make sure you try its anticuchos, juicy meat on skewers that was previously marinated and grilled with different spices, giving it a unique flavour. Lastly, don't leave without having ordered a pisco, the third element of innovative Peruvian identity in this restaurant, a spirit that goes well after dinner. Enjoy.
If you are looking for accommodation in Madrid, make sure you stay in our hotel in the center of Madrid, one of the best locations in Madrid that offers excellent value for money.
Categories: Gastronomía en Madrid
« The frozen life of house museums
Cuban food in Madrid »