Cuban food in Madrid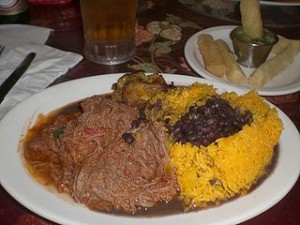 If you didn't manage to enjoy a tropical holiday this year, you can always make up for it by going to one of its culinary embassies in Madrid. Gasset Habana Restaurant (Calle Claudio Coello, 41) is a perfect option. Labelled as the perfect replacement for the charming Centro Cubano, which served the best Cuban food in the city from 1967 to 2011, this restaurant gathers all the Cuban spirit and character and offers a fantastic menu that includes cocktails.
On their website they insist on the fact that they preserve the recipe from the beloved Centro Cubano and they even state that it may be one of the best mojitos in Madrid. You'll have to try it and see for yourself. In terms of food, order the ropa vieja (shredded beef), vaca frita or black bean stew in an elegant and beautiful restaurant where you can eat for approximately 25 euros per person.
More modest but still as charming is Cuando salí de Cuba, located on a narrow street off the busy Calle Preciados (Calle de la Ternera, 4), very close to our hotel in the center of Madrid. It is a small and quiet place that also has tables outside. This little detail is also an advantage, since it avoids the hassle of street salesmen and other spontaneous and unwanted visitors. They serve authentic Cuban food at good prices, which may explain why it's always full. However, careful when you order mojito jugs because they can be quite costly. Take that little detail into account and you will enjoy a great meal.
Lastly, we propose a dinner at Zara. No, not the fashion store but the restaurant whose name is a lot older than the giant clothes store. Zara opened in 1964 and it knew Chueca before the gay gentrification, which gives it a vintage touch. Its daiquiri is quite famous but its Cuban dishes, such as rice with tomato sauce, fried egg and banana fritters (arroz a la cubana) or the yuca with chimichurri sauce, are also worth trying. Some say it is the best Cuban restaurant in Madrid. In any case, it's the oldest. Don't miss out on trying its tasty desserts, such as coconut with cream cheese or papaya milkshake with bits. A dinner for two should not set you back more than 40 euros for the two of you.
Categories: Gastronomía en Madrid
« Long Life Ceviche
Botanical Garden gets fresher »