Botanical Garden gets fresher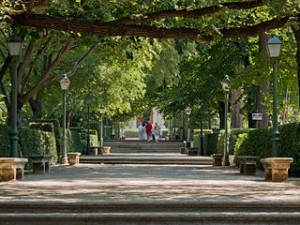 It has been open since 1781 and since then it has seen plenty of time, visitors and floral and vegetable aficionados go by. Located next to the Prado Museum, the ever interesting Madrid Botanical Garden also has another reason to visit it: a pond with 30 species of Iberian water flora, a place that Monet himself would love, since he spent his last days painting the water lilies of his favourite pond in Giverny. This pond in Madrid is made up of submerged plants, floating plants, emerging plants and a reed bed. These water plants are indicators of the place's floral health status: they disappear if they don't adapt.
It is like a small part of the Tablas de Daimiel National Park, and this pond brings some humidity to a garden that needed more water elements.
To plan your visit, it is an interesting option to previously visit the Botanical Garden's website to get information of interest, such as which are the plants of the month, among which you can find dahlias, trumpet vines, false jasmine, green roses and other familiar one like tomato vines, which can be seen on the terrace of Los Cuadros, in the allotment area. All of these are species that enjoy their maximum splendour in summer, which makes it interesting to focus on them. On the website you will also find a practical map of the garden, so that you don't get lost in its different areas, such as the one dedicated to ornamental, aromatic and medicinal plants or the allotment.
You can also download different auto-guide itineraries from the website, depending on what you want to see. Some are dedicated to trees, scientific expeditions or the evolution of the vegetable kingdom among others.
Spend a relaxing day walking and taking in the fresh air in this 200-year-old garden and brush up on your knowledge of flowers and plants. It is located in the most touristy area in Madrid, in the heart of Paseo del Prado, next to the world-famous homonymous museum. Make the most of your stay at Hotel Ateneo, our hotel with the best value for money in the centre of Madrid, and discover this wonderful setting. Opening times in August are from 10.00am until 9.00pm and tickets cost 3 euros.
Categories: Guías Madrid
« Cuban food in Madrid
Enter the Legend: Visit the Santiago Bernabéu »