Enter the Legend: Visit the Santiago Bernabéu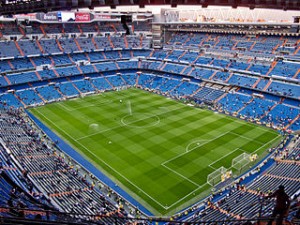 Ten European Cups are just ten of the reasons to access one of the world's most emblematic stadiums: Santiago Bernabéu, home of Real Madrid C.F., inaugurated in December 1947 and, since 2007, with the "Elite Stadium" status given by UEFA to stadiums with first-class facilities.
However, the visit doesn't just focus on its architecture of what must be said is a stunning architectonic complex, but rather allowing access to different areas inside the stadium itself. One of the most impressive ones is the tunnel that leads onto the pitch and where players wait nervously before the beginning of each match, the bench where players sit and wait for the time like Iker Casillas did for so long last season and the pitch itself, whose grass you can go on.
And, of course, you will see the trophy room, where you can admire all the European Cups conquered by one of the most successful clubs in the world: European Cups, domestic cups, leagues, Intercontinental Cups… You will see success everywhere you look. And, furthermore, you can pretend to be a sports journalist for a day in the club's press room, walk around the presidential boxes and enjoy a space whose name says it all: the sensation room.
The visit takes approximately 90 minutes and adult tickets cost 19 euros, with children paying just 13 euros. It opens from Monday to Saturday from 10.00am to 7.00pm and from 10.30am to 6.30pm on Sundays and holidays. You must remember that if there is an official match, the tour closes five hours before the start of the match. During those days, however, you can visit the Museum and stadium panoramic viewpoint up to three hours before the match.
Come and see one of the great temples of football, where you can also buy different merchandise products in the official club shop, such as the popular shirts with Cristiano Ronaldo, Bale or Benzema on the back. Find out more details on the club's official website. You can get to the Santiago Bernabéu in just a short metro ride from our hotel in central Madrid.
Categories: Guías Madrid, tourism
« Botanical Garden gets fresher
The Most Original Chinese Restaurants »