The Most Original Chinese Restaurants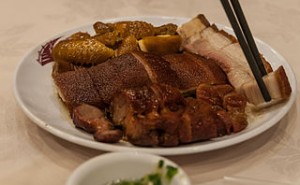 The typical Chinese restaurant that serves spring rolls and fried rice is in danger of disappearing. The competition is fierce and clients are increasingly demanding a more sophisticated offer. That is exactly what you can find at Asian Gallery, located no less than in the Westin Palace (Plaza de las Cortes, 7). Here you can sample Asian delicacies at prices that match the unique setting, such as the crunchy crab with Szechuan salt and pepper for "just" 18.50 euros, or the quail marinated in chilli for "only" 25.50 euros. It has a reputation for excellent service in a small and pleasant place. And, if you manage to find a discount coupon, you could eat there for as little as 30 euros per person.
Also worth it, albeit in a more popular and mundane atmosphere, is Don Lay, a Chinese restaurant on Paseo de Extremadura. They say that it is a proper Chinese restaurant and the truth is that it is one of the few restaurant that actually has Chinese clients inside. The decoration is the regular one in these kinds of restaurants but the food is a touch different to the normal Chinese food we are used to, monosodium glutamate aside. Try their homemade dim sums, the steamed sea bass or the black chicken stew. Reasonable prices.
Also known to be a proper Chinese restaurant is the one known as "the Chinese restaurant on Plaza de España". Located in this central spot, to get there you need to go down through a car park, which gives it a bit of an interesting and surreal twist. You then get to an arcade that reminisces of a trip to Beijing: Asian food stores, Asian travel agencies and, of course, the aforementioned restaurant, with a menu in Chinese. We recommend the noodle soup, which if you accompany with a starter, should be enough to fill you up.
Also, don't miss out on a visit to Ni Hao, on Calle Silva, 20 (very close to the hotels in the center of Madrid), and try its famous speciality: the Chinese fondue, known as hot pot, which will definitely make an impression on you.
Categories: Gastronomía en Madrid
« Enter the Legend: Visit the Santiago Bernabéu
Royal Palace of El Pardo »