Royal Palace of El Pardo
You can never learn too many things and there is no doubt that Francoism is an important part of the history of Spain. Buildings such as Edificio España, on its homonymous square, the Valley of the Fallen (Valle de los Caídos) and the Royal Palace of El Pardo, the official residence of General Franco during his dictatorship are proof of this. The complex has great architectural value and unsurprisingly was categorised as a Royal Site, as is the Palace of Aranjuez or the monastery of San Lorenzo de El Escorial. Previously a royal residence (this is where King Alfonso XII died), today it is used to accommodate foreign diplomatic parties and Heads of State on official visits.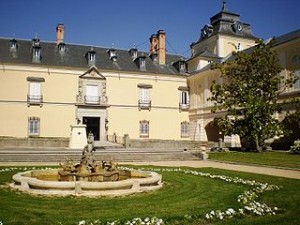 What used to be General Franco's residence today holds a rich interior thanks to its decoration, particularly its tapestries, fabrics on images of Goya; as well as its paintings, chandeliers and other royal furniture. For historical curiosity purposes, you can also access the dictator's bedroom, which has the first television ever to arrive in Spain; it arrived from Italy a few years before the first official Spanish TV broadcasts.
The visit to El Pardo is not limited just to the palace since the entry ticket also includes access to the gardens and the royal chapel, all of this with the aid of a human guide for just 9 euros. To get here, you can take bus 601 from the Moncloa interchange (connected directly by Metro from our cheap hotel in Madrid) or by car on the M-30 motorway, turning off on the M-605 signposted "El Pardo". The palace will be closed on the 18th and 19th of October.
Once you have finished your visit to the architectural complex, we recommend a visit to its nearby green area, Monte de El Pardo, considered one of Madrid's main green lungs, with a total of more than 39.500 acres of forest. In the past, it used to be a private hunting ground for the different royal families who lived in El Pardo as well as for General Franco himself.
Categories: Arte y cultura, Guías Madrid
« The Most Original Chinese Restaurants
Discover Barquillo Street »