Excursion to Alcala de Henares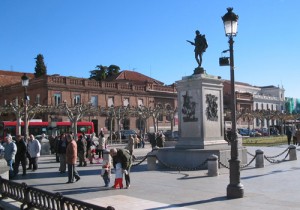 Alcalá de Henares, a noble Madridian city, saw the birth of Miguel de Cervantes in 1547. The city, easily accessible by local train (Cercanías C-1, C-2 and C-7A leaving from Atocha), is ideal for a day trip. You can also get there with the unique Tren de Cervantes, a train that runs from October 4th until December 6th.
It leaves from Atocha station (one train-stop away from our hotel at Madrid Center) at 11am and returns to Madrid at 6pm. Among its attractions is the actors that are dressed in attire from Cervantes' time, known as the Siglo de Oro (Golden Century); or the guides awaiting at the train station of Alcalá. Also, there are 10% discounts in restaurants and a free entrance to the Roman settlement of Complutum, Casa de Hippolytus and the Burgo de Santiuste Performance Centre. Adult tickets cost 20 euros and 15 euros for children from ages 4-11.
Let us not forget about the author of El Quijote, whose birthplace is now a small museum open to the public. It recreates the decoration of a well-to-do Castilian house from the 16th and 17th centuries in a building located in the heart of the city's old town. It opens from Tuesday to Sunday from 10am until 6pm, with free entrance.
Another interesting place to visit is the Roman settlement of Complutum, which will delight all archaeology fans, considered as the first Roman settlement in the city of Alcalá. The streets are also an essential and charming part of this city that has a university flavour to it, since it is the original headquarters of the original Universidad Complutense.
This academic tradition saw some of the most prominent writers of Hispanic culture enroll in it, as you can see from some of the signposted routes that allow you to follow the trail of San Juan de la Cruz, Jovellanos, Miguel de Unamuno or Camilo José Cela, writers who are linked to this city for many different reasons.
Categories: Guías Madrid
« Russian Madrid
Bingo is in Fashion (Again) »