Bingo is in Fashion (Again)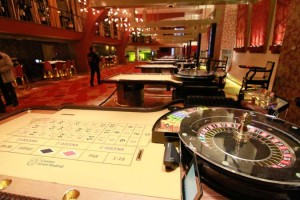 Forget about the traditional dingy bingos with and old clientele and cheesy decor. The new gaming spaces in Madrid offer a modern and cosy touch, like Bingo Roma, located on Plaza Manuel Becerra, 12. In this bingo, the prizes are more than just money and the client can win trips to the Caribbean or designer-brand handbags. All of this alongside the option of being able to sample high-quality food menus at affordable prices in one of the most famous bingos in the city.
Canoe is another interesting place to spend a different and fun evening of bingo. Known for having one of the biggest prizes in the city, it has a traditional bingo or an electronic one as well as roulettes and sports betting. It also has a smoker's club and a restaurant.
And from the bingo we move onto the traditional casino thanks to the central casino that Casino de Torrelodones has opened in the city centre in front of Plaza de Colón, on number 34 of Paseo de Recoletos. It has four floors with different gaming areas and food areas, such as the restaurant Columbus, managed by the Coque company whose restaurant in Humanes boasts one Michelin star. The interior of the casino stands out for having wavy and audacious lines and an atmosphere that seeks warmth and a distinctive touch.
The classic fruit machines lead onto games like poker, roulette, blackjack or American baccarat in a technological environment with its 55 giant TV screens integrated in the decoration. The opening times of the gaming areas is from 4pm until 6am every day and for the fruit machines from 11am until 6am, also every day.
Enjoy gambling but do so responsibly like any other experience, which can be fun if you do not practice it to make money. It is yet another activity that you can do in Madrid when you stay with us at Hotel Ateneo Puerta del Sol.
Categories: Leisure and Events Madrid | Blog Hotel Ateneo
« Excursion to Alcala de Henares
An afternoon at the (Wax) Museum »