An afternoon at the (Wax) Museum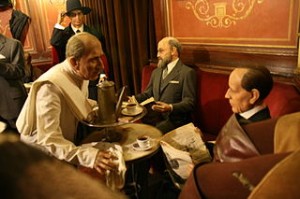 Children will instantly be attracted to the figure of their footballing idol Cristiano Ronaldo, who has had his own wax figure for a short time now. "It's almost just like me" he said when he saw it. It is one of the new figures in this entertaining museum located in the heart of Madrid (Paseo de Recoletos, 41, Plaza Colón), which goes along with those of Tom Cruise, George Clooney, Rafa Nadal or Iker Casillas.
New faces that coexist with other popular ones such as the comic book characters Mortadelo and Filemón, Barack Obama or King Juan Carlos I, as well as with slightly older personalities like Napoleon or Cleopatra.
The Wax Museum allows you to travel through history and culture, like you can do in that replica of a literary cafe in Madrid, or with famous Spanish literary figures such as Camilo José Cela, Ramón del Valle-Inclán or Antonio Machado. You can even visit the gallery of horror and feel the breath of Freddy Krueger, Dracula or the Joker before you get to that excellent reproduction of the Express train robbery in Andalusia in 1924, which constitutes the largest reproduction in the Wax Museum.
The newest faces will be motorcycling champion Marc Márquez, Colombian actress Sofía Vergara or the bullfighter Morante de la Puebla, although this museum is still offering many attractions so you can spend a different kind of afternoon. As well as the visit in itself, next to it you can find the Horror Train, which runs through dungeons and scenarios not suitable for the faint of heart.
Adult tickets cost 17 euros and 12 euros for children from 4 to 12 years of age and over 60s. Unlike other more restrictive museums, there is no problem in taking photos inside of the characters and the decorations.
A fun alternative for children and adults who come and visit Madrid. Stay at Hotel Ateneo and enjoy a stay in a charming hotel in the heart of the city, a stone's throw from the Puerta del Sol.
Categories: Arte y cultura
« Bingo is in Fashion (Again)
Massage as a need »