Russian Madrid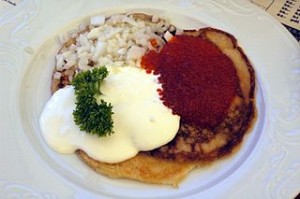 During the Civil War, all those Russians, Slavs and Polish people who joined the Republican forces to fight fascism in Madrid were known as los rusos, the Russians. However, it was meagre help as was later seen, that did nothing but strengthen the ties between different and distant countries. Now in the 21st century, fortunately without any wars in Europe, we are left with their cuisine, present in many picturesque places that we will detail below.
Rasputin is a piece of Russia in the district of La Latina, a place with plenty of charm close to Calle Bailén (Calle de Yeseros, 2). Its interior takes us back to pre-communist Russia, the one portrayed in Anna Karenina, the Russia that was not unfamiliar with luxury and splendour.
It has an open menu and interesting set menus, with specialities such as blinis with caviar, stroganoff and duck, as well as salmon. It is a romantic place with a slight decadent touch that brings it more charisma within the 'over 20 euros' bracket, although it is excellent value for money. Guests who have eaten there have it in high regard, from "Excellent" to "Does not let you down".
Registering in the 'medium class', so to speak, is Las Noches de Moscú, on Calle Marqués de Santa Ana, 37, in Malasaña, It offers excellent service lead by Tatiana, who tells her unique Russian story to those who will listen. They also serve delicious blinis as well as the traditional herring. It is interesting to book a table by the window, since it is like an old 19th-century train, and order Russian sangría. Don't forget to order soup either, such as the Moscovite borsch, which opens the appetite with its acid twist.
Our last recommendation is El Cosaco, on Plaza de la Paja, 2 (La Latina), with its old decoration that reminisces of tsarist Russia, with candles and a romantic atmosphere. It serves cold yogurt soup or an assortment of caviar. It's not a place to go every day but it is worth it due to its authentic cuisine and spirit.
Russian cuisine is an exotic and curious gastronomic that you can discover during your stay in Madrid. Would you like to stay in the city centre during your visit at a reasonable price? Our 3-star hotel on Calle Montera, a stone's throw from the Puerta del Sol and the gran Vía, is an option you should very much take into account.
Categories: Gastronomía en Madrid
« El Greco in Madrid
Excursion to Alcala de Henares »