El Greco in Madrid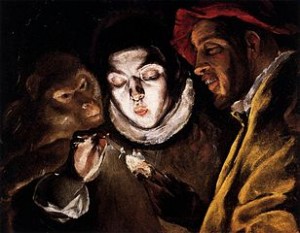 Even though the exhibitions of El Greco have been in Toledo commemorating the 250th anniversary of the artist's death, you can also see some of his works in Madrid. One of the best places for it is the Museum of El Prado, which offers the exhibition 'El Greco and modern painting' until the 5th of October.
Like the exhibition title says, it is an exhibition that analyses the influence that this artist of Greek origin had on artists like Picasso, Beckmann, Orozco and even Jackson Pollock, whose action painting does not appear to show references to the mannerisms of Domenico Theotocopoulos.
The exhibition helps visitors understand the projection of El Greco as a universal art master, something that happened in the late 19th century, similar to what happened to Velázquez, whose international recognition did not arrive until 1850. The work of El Greco was of interest to Spanish artists such as Zuloaga, who painted 'The vision of St. John' under a notable influence from El Greco, a painting that later influenced Picasso himself and therefore the genesis of cubism. He also influenced Delaunay and orphism and in the works of Derain and Modigliani, whose stylised figures neatly reminisce of El Greco's flamboyant bodies.
All in all, a total of 119 works, among which you can find paintings of El Greco accompanied by works of posterior artists, in which you can see the pictorial relation established between them. You can see works by Édouard Manet, Mariano Fortuny, Paul Cézanne, Joaquín Sorolla, Manuel Bartolomé Cossío and Ignacio Zuloaga among many others. It is open Monday to Saturday from 10.00am until 8.00pm, and from 10.00am until 7.00pm on Sundays and holidays. Ticket prices at 14€.
It is a fantastic opportunity to come and discover the city of Madrid. And, if that is the case, at Hotel Ateneo Puerta del Sol we offer you our comfortable rooms a stone's throw from the Puerta del Sol, from where you can walk to anywhere in the Spanish city. Do you know about our special offers? These are only available for bookings made through the hotel's official website.
Categories: Arte y cultura, Leisure and Events Madrid | Blog Hotel Ateneo
« A Night of Musicals in Madrid
Russian Madrid »