A Night of Musicals in Madrid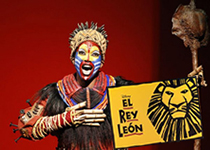 Gran Vía is our own Broadway, an avenue dedicated to fashion, theatre and great musicals which, for many years, especially in the stretch closest to Plaza de España, offer great shows. Let's discover some of them.
One of the most emblematic ones is The Lion King, which occupies a prominent place in Madrid's musical programme, and that takes place at Teatro Lope de Vega. It is a play that has enjoy huge success throughout the world and that makes us think about the impact that each of our actions has on the environment, which makes it ideal for the whole family as a song for love and respect of nature. Tickets range from 54 to 140 euros, which will buy you a ticket in the best seat in the house.
With the nostalgic 80s spirit, there are two musicals that seduce the local crowd: one is Hoy No Me Puedo Levantar, which has already been seen by two million people at the Teatro Arteria Coliseum thanks to its renovated mis en scène and new technology. It revolves around the songs by the band Mecano and the prices are much cheaper than The Lion King, which make it much more accessible. Tickets range from 19.90€ to 22€.
The other 80s musical is Marta tiene un marcapasos (Marta has a pacemaker), based on the hits by another band, Hombres G, and this one is performed at Teatro Compac Gran Vía. It is a two-hour musical comedy that talks about love and about overcoming life's problems through twenty of the most popular songs of this band from Madrid. Tickets cost 30 euros.
If you are coming to Madrid to enjoy one of these musicals or any of the other many shows that take place in the city, Hotel Ateneo Puerta del Sol is a fantastic accommodation option. We are located on Calle Montera, 100 yards from the Gran Vía and 100 yards the other way from the Puerta del Sol, from where you will be able to get to all the theatres and city sites in just a short walk.
Categories: Arte y cultura, blog, Leisure and Events Madrid | Blog Hotel Ateneo
« New Archaeological Museum
El Greco in Madrid »