Where to eat in Madrid like a local
Madrid's gastronomic offer is unique in the world. Traditional food, fast food, fusion restaurants, cuisine from around the world… But, where should you go if you want to eat like a local? Keep on reading to find out.
La Campana
It's hard to find a dish more representative of Madrid than the deep-fried squid sandwich, known as the bocadillo de calamares, although, funnily enough, the sea isn't even in sight. You can add some mayonnaise to it if you want but if you want to enjoy the real deal, head to La Campana, located on a street off Plaza Mayor, more specifically on Calle Botoneras 6. Added to its capacity to produce such a delicious bit of food is the fact that you go in, you order and in 30 seconds you have your sandwich. Freshly made! It's not just delicious, it's so much more than that!
Restaurante Lhardy
If you're looking for more elaborate food, you should try the famous local stew known as cocido madrileño and there is no better place to do so than Lhardy. This old restaurant on Carrera de San Jerónimo has been serving its delicious soup and stew since 1839, although it doesn't just live off it because it also serves exquisite and filling options such as stewed partridge, callos (tripe) or white-bean parmentier. Lhardy is a temple for lovers of fine cuisine.
Museo Chicote
Yes, it's always full of tourists but real locals used to come here long before it became a popular choice in the best guidebooks. Pedro Chicote inaugurated this place in 1931 and its bar has accommodated world celebrities such as the late footballer Alfredo di Stéfano or Ava Gardner, both of whom could not resist its delicious cocktails. Where to find it? On Gran Vía, 12.
Chocolatería San Ginés
To finish off, a delicious dessert. No dessert is as traditional in Madrid as a nice cup of hot chocolate with churros and the best place to enjoy it in peace is Chocolatería San Ginés. This traditional bar is located on Pasadizo de San Ginés, 5 and since 1894 it has been serving delicious hot chocolate, perfect for a cold winter evening or a hot summer's afternoon, because it doesn't matter what time of year it is if you like hot chocolate of the highest quality.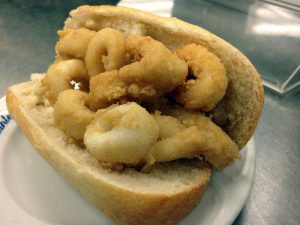 Categories: Gastronomía en Madrid
« Sales shopping in Madrid's street markets
The bars with the best patatas bravas in Madrid »