The bars with the best patatas bravas in Madrid
Madrid has quite specific gastronomic references, such as offal cuisine (not always to everyone's liking) or the fried-squid sandwich to name a couple. Among its star dishes there is one that generates heated debates in regards to its optimum version and it's no other than the famous patatas bravas. What may seem like a humble recipe of potato wedges with spicy tomato sauce is in fact a complex preparation in which the double frying times and the composition of the sauce or velouté cream are key to its success. Controlling the level of spice is also key. Like we said, there are many opinions in terms of the bar that serves the best patatas bravas so all we are going to do is name a few of the most popular ones.
Firstly is the legendary bar Docamar (Calle Alcalá, 337), which has been serving this tapa to many generations of locals since 1963. On its walls you can see photographs which are witnesses of its history and its tight links to its neighbourhood. Obviously, they have their own secret recipe for the sauce.
In second place, and even older than Docamar, is Bar Alonso (Calle Gabriel Lobo, 18) which has been serving delicious bravas since 1957 alongside other local high-quality specialities such as callos (tripe) and torreznos (fried bacon strips).
You can also check out Las Bravas (Calle Álvarez Gato, 3), whose name says it all about the house speciality. This tourist-friendly place near Puerta del Sol has the charm of being part of literary history thanks to its location, Callejón del Gato, which Ramón del Valle-Inclán immortalised in his masterpiece Bohemian Lights.
If you'd like to try a more daring and modern version of it, you can go to Vi Cool, the restaurant of the famous chef Sergi Arola on Calle Huertas, 12, where they serve them in small cylinders with the sauce injected inside. Estado Puro (Plaza Cánovas del Castillo, 4) also makes them in an original way thanks to a recipe developed by another top-class chef, Paco Roncero.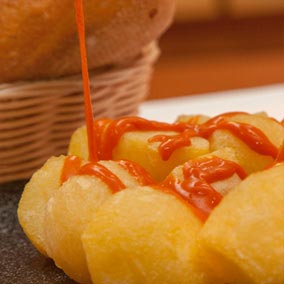 Categories: Gastronomía en Madrid
« Where to eat in Madrid like a local
A view of Madrid: the most spectacular viewpoints in the city. »