A view of Madrid: the most spectacular viewpoints in the city.
Cities are organic and changing beings: they offer unique perspectives at all times and places. It's not the same walking on Gran Vía than seeing it from the terrace of the Madrid Casino. It's completely different seeing Plaza del Cascorro on a Tuesday than on a Sunday, when it hosts the famous El Rastro market and it is full to the brim. If you want to enjoy a different and majestic view of the city of Madrid, here are a few viewpoints from where you can admire the city from a unique perspective.
Despite it being closed for a few years for a compulsory renovation, this viewpoint is once again open to the public. Standing at more than 300 feet up in the sky, its panoramic and practically-360-degree view allows you to see things in a different way. Also, right next to it is the Museum of the Americas, where you can discover interesting Pre-Columbian objects.
Temple of Debod: In the late 60s, Egypt presented Spain with a gift, a small temple, which today gives its name to a park with one of the best views of the outskirts of Madrid and the best and most spectacular sunsets.
Cable car: Very close to the Temple of Debod, on Paseo del Pintor Rosales, you can enjoy some stunning views riding the cable car all the way to Casa de Campo. When you reach your destination, you can go for a walk in one of Madrid's main parks.
Círculo de Bellas Artes Rooftop: If you would like to enjoy an amazing and spectacular view of the centre of Madrid while you have a drink, check out this rooftop. Entry is 4€ but, remember, you only live once.
Cibeles Palace Viewpoint: Near Círculo de Bellas Artes and on top of City Hall is another viewpoint offering privileged views. Be the Mayor of Madrid for the day! One floor below is a restaurant and a bar terrace where you can have something to eat or a drink.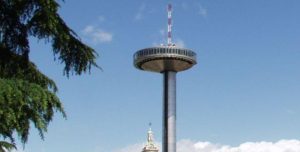 Categories: Leisure and Events Madrid | Blog Hotel Ateneo
« The bars with the best patatas bravas in Madrid
Plans for an adrenaline rush in the Spanish capital »