Plans for an adrenaline rush in the Spanish capital
If you are visiting Madrid with your children, you will probably be very interested in this series of plans. If you are coming with your friends or partner, then you can still enjoy a fun day out because despite that leisure activities have increased endlessly in the last few decades, nothing beats the thrill of a drop whilst riding a roller coaster.
Parque de Atracciones de Madrid. The most famous of its kind. Despite it being close to 50 years old (tickets, back then, used to cost just 5 pesetas, according to their website), it has still managed to update its rides properly, including some of the biggest adrenaline rushes you can enjoy in the Spanish capital ("Tifón", "Abismo", "La lanzadera", "Vértigo" o "Tornado" are a few of the eloquent names) and some of the most relaxing ones, such as "La Selva", a quiet "themed" jungle boat ride or "Zeppelin", which allows you to enjoy a panoramic view of the park from the sky. There is also an area called The Walking Dead Experience which replicates the popular TV series.
Parque Warner. Okay, it's not exactly in Madrid and you have to get a bus or drive to the outskirts of the city to visit it but this theme park with some of the most famous Warner Bros. characters is well worth the trip. One of its greatest features is, undoubtedly, its Stunt Fall roller coaster which, standing at a daunting 213 ft., can be seen many miles away. They also offer virtual-reality experiences such as "Batman: Arkham Asylum".
Xanadu. What about skiing in August? The Xanadu shopping centre includes this attractive and refreshing plan which you can enjoy even in the heart of summer. You can rent the skiing equipment and ski for a couple of hours for a reasonable price.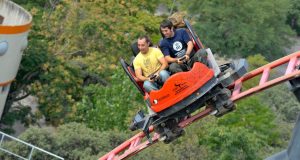 Categories: Leisure and Events Madrid | Blog Hotel Ateneo
« A view of Madrid: the most spectacular viewpoints in the city.
The best wine shops in Madrid »