Sales shopping in Madrid's street markets
Some people wait until July to go to the nearest swimming pool or to pack their bags since their holidays are around the corner. Others can't wait until July 1st because it signals the start of the sales! There is nothing quite like finding that item or accessory that you love at half the original price.
For this reason, we propose a route around Madrid's best street and flea markets because there is nothing better than rummaging through hundreds of items and finding the bargain of a lifetime.
Mercado de Motores
This market unique in its kind opens its doors every month. In July, it will be on the 8th and 9th, with dozens of craftsmen and designers setting up their stalls inside the Museo del Ferrocarril, on Paseo de las Delicias, 61. New products made with a lot of love and sold in a family-friendly atmosphere is what you will find when you come here. On top of it all, you will be surrounded by trains and locomotive engines from yesteryear since, after all, you will be in a railway museum! What more can you ask for?
El Rastro
It doesn't matter if it's summer or winter because El Rastro opens for business every Sunday and it never lets you down, which is why it's the best flea market in Madrid. Everyday objects, antiques and weird items is what this open-air market in Madrid has been selling for more than 400 years… And long may it last! Despite the first impression of chaos, El Rastro is well structured. On Calle del Carnero you can find old books; on Calle Rodas and Plaza del Campillo there are stalls which specialise in old magazines and sports stickers; Calle de San Cayetano is where art lovers will find all kinds of paintings and painting material, and so on and so forth, because we could be here all day listing the items that you can buy in this market. If it's not on sale at El Rastro, it doesn't exist.
Mercado de Diseño
This revolutionary market is located in Centro Cultural Matadero, on Paseo de la Chopera, 14. It is a platform designed to exhibit the work of more than 150 designers and artists who use this recreational and leisure space to showcase their work. Clothes, jewellery, decoration items, accessories… All of them in a unique space for all ages. Despite its next edition not being until September, we'll leave the name here so you can remember it and check it out in a few months when you want to update the contents of your wardrobe.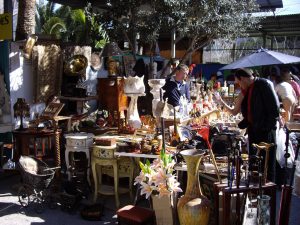 Categories: Leisure and Events Madrid | Blog Hotel Ateneo
« Spas in Madrid to escape the heat
Where to eat in Madrid like a local »