Spas in Madrid to escape the heat
With summer upon us, the only thing you really feel like is a cool ice cream, a lemon slushy and a refreshing swim in the pool. However, did you know that there are many other options to escape the heat while you forget about your everyday stress? Yes, we are talking about the wonderful urban spas in Madrid. Quiet, relaxing, away from the high temperatures… They are a haven of peace that you will be diving into.
Hamman Al Andalus
On Calle Atocha, 14, you can find a place worthy of the One Thousand and One Nights: Hamman Al Andalus, an exotic spa since it's located in a water cistern which dates back to the Arab era.
Put your swimming kit on and float in its hot-and-cold pools while you lose yourself in its ceilings, worthy of any majestic Mozarabic palace.
Of course, you will also have access to treatments and massages that will leave you feeling good as new.
Pañpuri Organic Spa
This spa is a reference for all luxury lovers, since this wellness centre on Calle Lagasca, in the heart of the Salamanca district, the home of sophistication and luxury in Madrid. Its hydromassage baths and scented oils will make you forget about the world outside in this Zen centre that will align your Chakras. Everyone deserves a treat every once in a while.
Auditorium Spa
If you would like to feel all the benefits of water on your body and mind, find a space in your schedule to relax at Auditorium Spa. Its therapies are fully focused on hydrotherapy techniques and the benefits of minerals, clay and scented oils.
Stress has no place in this oasis with a design fully inspired in ancient Roman baths which will transport you to a universe of relaxation while dozens of water jets run over your body. Where? On Calle Suero de Quiñones, 22.
Los Nogales Spa&Wellness
This is, without doubt, one of Madrid's most popular spas thanks to the quality of its facilities and its wide range of services and treatments. Very few spas can boast about having almost 27,000 ft2 of space divided into five different areas, each for a specific treatment to apply. The only thing you need to bring is your swimming kit; they will take care of the rest at the spa itself.
To make things even easier, Los Nogales has two centres: SPA Imperial, located on Calle Santa María La Real de Nieva semiesquina, Paseo Imperial 26; and SPA Puerta de Hierro, on Calle Isla Malaita, 10, semiesquina César Manrique. Which of the two are you going to choose?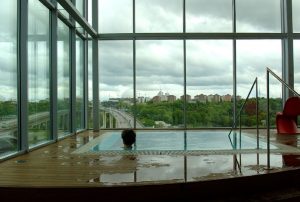 Categories: General, Guías Madrid
« Madrid through apps
Sales shopping in Madrid's street markets »