Madrid through apps
We use our mobile phone for more and more things in recent times and discovering Madrid's charm is also something that we can do with it. The Guía Madrid 5D app, promoted by the Madrid Regional Council, is one of the most complete ones both in order to plan your trip and to enjoy it. It offers plenty of information on tourism, heritage and places of interest to visit, with the added option of being able to download the contents you want so you can use them later without being connected to the Internet.
The guide presents itself as a 100% visual app with quality contents that include more than 700 multimedia features, 2500 high-resolution photos, 800 places of interest and 140 more images in 360º. As well as receiving practical information, the app itself is highly valuable because it will allow you to access inside museums and other points of interest. Also, thanks to augmented reality, you can obtain extra information from the places you are visiting at all times as long as they are available on the app, of course.
Guía Madrid 5D is ideal for excursions to historical and heritage sites, such as the royal sites of San Lorenzo de El Escorial, Aranjuez and Alcalá de Henares. Wine lovers can also use VillaCard, an app which offers information on the six most traditional spots around Madrid as well as wine-tourism activities. Download them and broaden your experience by visiting other picturesque places such as Buitrago de Lozoya, Chinchón, Colmenar de Oreja, Navalcarnero, Nuevo Baztán and Rascafría.
Art lovers can enjoy a series of apps that offer plenty of options, such as those created by the Prado Museum. Among them is The Prado Guide, which brings you the museum's permanent collection in high definition, more than 400 works in total by artists such as Velázquez, Goya and Titian; and Photo Prado, which will allow you to create a personalised postcard next to the museum's masterpieces.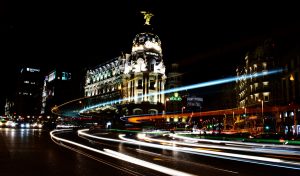 Categories: Noche de Madrid, Leisure and Events Madrid | Blog Hotel Ateneo
« Galician gastronomy seduces Madrid
Spas in Madrid to escape the heat »