Ice cream shops that will make you melt
Fancy an ice cream? Make sure you get one that is worth it, such as the ones at Mamá Elba Heladería (Calle Cea Bermúdez, 29), a pleasant ice-cream shop with its Parisian-style white tiles that also sells cakes (gluten-free options available).
Further towards the city centre is La Romana, with a shop on Calle San Bernardo, 97. Here, they offer freshly made ice cream in measured quantities so that the product is sold at its best. The first shop opened in Rimini, Italy, back in 1947, so they come with all of the tradition of the ice-cream country par excellence.
A more gourmet option is the luxurious ice cream at Giangrossi, on Calle Velázquez, 41. They offer more than 30 flavours that range from traditional carrot and tangerine to homemade dulce de leche, rum cream with chocolate and Mascarpone with wild berries. Chocolate lovers can enjoy different flavours: intense, with cookies, classic…
There are as many ice cream shops as flavours you can think of, and Mistura has quickly become a favourite among hipsters. They boast about serving ice cream the way it should be served, old-school style, at least in terms of toppings and extra ingredients. They serve the extras by crushing them in front of your eyes and then adding them to the ice cream, it couldn't be any fresher. They also serve ice coffees with vanilla, caramel or mocha; fresh-fruit juices, milkshakes and delicious ice tea (green, chai and white) that are incredibly refreshing.
If ice lollies are your preference, don't miss out on visiting Lolo. This modern designer store opened in 2015 and is the first one in Madrid to make and sell homemade ice lollies. It is located on one of Malasaña's liveliest streets (Calle Espíritu Santo, 16) and their mottos include "lollies made of fruit, not ice", since they are 75% fresh ingredients. They offer exotic recipes that change every day, so get there quickly and don't miss out!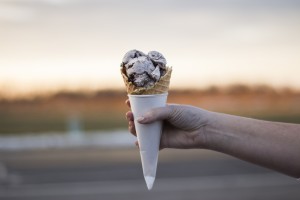 Don't miss it!
Categories: Gastronomía en Madrid
« Mercado de la Paz, a commercial and gastronomic oasis
Madrid has its own cuisine. Come and discover it! »