The best Indian and Thai restaurants in Madrid
The restaurants with the best value for money are located in the heart of Lavapiés, on Calle Ave María and Calle de Lavapiés. Despite the climb, there are many restaurants which suddenly appear on either side of the street and as long as the weather isn't too cold, eating al fresco won't be a problem. Menus cost approximately 10 euros and include classic dishes such as Tandoori chicken and different curries which are excellent value for money.
If you want something slightly more upmarket, Madrid has a wide range of Indian restaurants that would be a hit even with Indian people. One of them is Tandoori Station (Calle Ortega y Gasset, 89-91), which offers a tasting menu for 27.50 euros and whose chef of Asian origin, Nadeem Siraj, attempts for his guests to travel to India and Pakistan through aromas and flavours. Siraj himself oversees the tables to make sure everything is in order in a restaurant which offers "luxurious" food at affordable prices.
An Indian restaurant which is centrally located and hits the spot is Curry Masala, on Calle Silva, 16, next to Plaza del Callao. Its speciality is the classic Indian dish Tikka Masala, although their Tandoori chicken also enjoys considerable popularity. Swagat (Calle Núñez de Balboa, 29) and Diwali (Calle Lope de Rueda, 19) are also very interesting options.
From India we travel to Thailand, to a restaurant with a pleasant and delicate decor called Krachai (Calle Fernando VI, near Alonso Martínez) which serves a delicious curry wok. However, a favourite among the Thai community in Madrid is Thai Orchid, where you can try a delicious Pad Thai as well as curious and exotic desserts with a level of sweetness you can only find in Asian food.
To top it all off is Sudestada, offering dishes that include more than 250 ingredients cooked by the experienced chef Estanis Carenzo.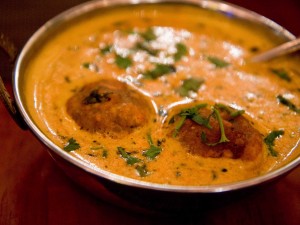 Categories: Gastronomía en Madrid
« Culture in Lavapiés
Galician gastronomy seduces Madrid »