A ride on the Strawberry Train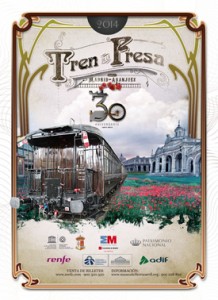 It was the first train in the region of Madrid and the second in Spain (after the one that did the route Barcelona-Mataró). It was called El Tren de la Fresa, the Strawberry Train, and because of that historical value, its activity re-started in 1984, maintaining the route that it did back then, from Madrid to Aranjuez. This train allows to discover in first person how trains were in the late 19th century, in wooden carriages that have been perfectly preserved and the immerse the traveller in a completely retro experience.
El Tren de la Fresa leaves Madrid, from the Museo del Ferrocarril (Railway Museum) at 10am and it arrives to the noble town of Aranjuez in just one hour, leaving again for the Spanish capital at 6pm and arriving at 7pm. However, note that they are not daily services but rather day trips that take place only a handful of days every year. This year you will have to wait until September to ride this train and then again for a few days in October.
The trains that are used were acquired between 1914 and 1930, and they were in use until well into the 1970s. Later, they were restored by the Spanish Rail (RENFE) and Railway Military Service repair garages for their current tourist use.
The route is related to the one inaugurated in 1851, which had as its objective to link the Spanish capital with the Mediterranean Sea, for which they searched for a route that did not have many geographical ups and downs. This was the case with the route to Aranjuez, at the same time that Madrid was linked with a town that had historical value, nestled in a region with growing industrial strength. Taking the Tren de la Fresa today has double value: travelling in those old wooden trains that our ancestors travelled in and also the destination, Aranjuez, which with its beautiful pink-stone palace and vast and magnificent gardens is an essential visit for every visitor who comes to the region of Madrid.
Categories: Guías Madrid, tourism
« The Best Cheeses in Madrid
Sweet Breakfasts in Madrid »