Sweet Breakfasts in Madrid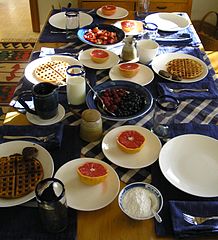 Even though we think that our hotel's breakfast buffet is hard to beat (especially if we take into account that we bring it to your room), Madrid has some places that specialise in breakfasts, since it is the most forgotten of all three daily meals in the Spanish capital. However, if you look for it you will find it.
You can do so in the Bistrot of La Central in Callao, the bookshop inaugurated in 2012 in the heat of Madrid that is added to La Central in the Reina Sofía Museum that has its own cafe. It has a wide range of cakes in a pleasant atmosphere that invites visitors to enjoy a good book while there. If you are late, something quite commonplace in Madrid, you can always enjoy a nice brunch there.
Also for those with a sweet tooth, albeit with an English twist, is Living in London, on Calle Santa Engracia, 4, famous for its chocolate cake with cream. It has a small shop with traditional English jams, tea sets and biscuits. And from London we move to Paris, because on 49 Calle Barquillo we find Pomme Sucre, specialised in homemade pastries of the highest quality, with special devotion for croissants. With a minimalist design, the cakes and pastries stand out in this sober atmosphere that would be better suited to take the food away rather than to it in.
A warmer atmosphere can be found at Mamá Framboise, inaugurated in 2011 on the pretty street Calle Fernando VI, not too far from Pomme Sucre, where they sell French-style cakes in a modern and elegant atmosphere that live up to their potential. The place has a cosy decoration and serves coffee in a large cup, something that Amélie Poulain would definitely order if she travelled to Madrid.
And for chocolate lovers, without leaving that area of Madrid (district 04), is Sampaka, an elegant and sober establishment decorated in wood that is also a shop. Inside you can try a nice hot chocolate, the more bitter azteca version, or the traditional one, accompanied by, for example, one of the soft croissants that they sell.
Categories: Gastronomía en Madrid
« A ride on the Strawberry Train
New Archaeological Museum »